On Saturdays you can also hunt some bargains in the form of offers of the day or price drops in Amazon. For those who cannot be vigilant on weekdays, today we have more tools from Bosch, storage for our PCs, vacuum cleaners or smart air conditioning for our homes. We will tell you if you keep reading.
For those who want the speed of NVMe-type SSDs in their computers without giving up a large storage capacity, now, we can buy the Western Digital Blue SN550 of 1 TB for 104.99 euros with a 7.60 euro discount on the previous 112.59. With it we will have 3D NAND memory and speeds up to 4 times faster than those of conventional SSDs.
Western Digital Blue SN550 1 TB NVMe SSD, Gen3 x4 PCIe, M.2 2280, 3D NAND
Inside the brand G-Technology (also from Western Digital), we have a professional range of single bay desktop hard drives such as G-Drive. In this model we have several capacities and the possibility of choosing them with or without USB-C connection. On sale this week we find the one of 4 TB capacity and USB 3.0, we have it for 156.99 euros. With it we will save 33 euros, since before it cost 189.99 euros.
G-Technology G-DRIVE 4TB Enterprise Class 7200 RPM, 245MB / s, with USB 3.0
Today in Amazon we can find the Amazfit Neo reduced between 28 and 30 euros depending on color. At least we will be saving about 5 euros, since it normally sells for about 34.99 and we will take a watch with the look of the classic Casio but with smart features such as step counting or sleep and heart rate monitoring.
Amazfit Neo Smart Watch Smart Watch 28 Days Battery 5 ATM Sensor Biological Tracking Heart Rate iOS & Android (Black)
For the intelligent air conditioning of our home, today we have a good number of packs of Netatmo, with thermostats and valves to save money. They carry up to 25% discount and their prices are now between 45 and 219 euros.
A broom-type vacuum cleaner, the Proscenic P8 Max, a fairly recent model, offers us 2-in-1 features that can also be used as a handheld, battery-powered vacuum cleaner, with 35 minutes of autonomy and various accessories for different surfaces, for only 119.20 euros, with a discount of almost 30 euros from the usual 149.
Proscenic New for 2020 P8 MAX Powerful Cordless Vacuum Cleaner 20kPa, Brushless Motor, Handheld 2 in 1 with Various Accessories, removable Lithium-Ion battery and Rechargeable 35 mins autonomy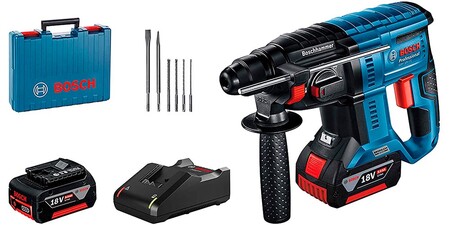 A jackhammer like the Bosch Professional GBH 18V-21, it leaves us today for 299.99 euros, with a reduction of about 75.11 euros from the usual 375.10, offering us a transport case and the additional handle for a more comfortable handling, set of bits and additional battery.
Bosch Professional 18V System GBH 18V-21 Rotary Hammer, Turning speed 0-1800 min-1.2 GBA 18V 5.0 Ah batteries + GAL 18V-40 charger, 6-piece drill and chisel set, – Amazon Edition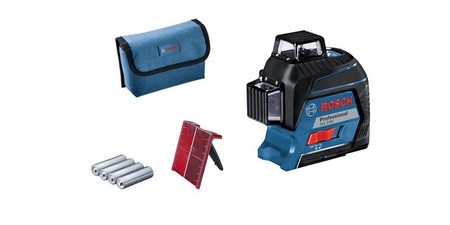 The Bosch Professional 0601063S00 is a blue line laser level, capable of offering 3 projections at 360º and that works on batteries. Its price today is 266.99 euros, instead of the usual 334: we save 67 euros today with it.
Bosch 0601063S00 Laser Level (range up to 30 m, 4 AA batteries, in case), Blue
For 149.99 euros and with a discount of 36.81 euros from the previous 186.80, we also have reduced the Bosch Professional GIM 60 L, a digital inclinometer with laser precision and magnetic grip.
Bosch Professional GIM 60 L Digital Inclinometer (laser precision, measuring range: 0-360º, length: 60 cm)
We finish again today with the selection of Bosch tools what Amazon offers us with very good discounts. We have items from your range for garden and DIY, such as lawnmowers, brushcutters and trimmers, saws, screwdrivers and strippers or laser levels among other utensils, with prices ranging from 36 to 680 euros.
These are just some of the best offers of the day and price drops you can find today, but you can find more here. And you know; Shipping is free on orders over 29 euros. In addition, Amazon Prime customers receive their purchases the next day. If you are not already, you can try it for free for a month. Of course, without commitment of permanence and being able to unsubscribe at any time.
Prices and availability may vary after publication
Other featured offers
Do not miss the rest of the featured offers today:
Disney, Pixar, Marvel, Star Wars and National Geographic, on 4 simultaneous screens, with Disney +. Subscribe before February 23 and save more than 20% in both the monthly subscription (€ 6.99 instead of € 8.99) and annually (€ 69.99 instead of € 89.90).
Subscribe before 02/23/21 to save more than 20% on the monthly (6.99 euros) or annual (69.99 euros) subscription.
Free shipping, streaming movies and series, over 2 million ad-free songs, hundreds of free eBooks, and unlimited photo storage with Amazon prime. Try it free for 1 month (then € 36 / year). If you are a student, 3 months free and pay half: only 18 euros per year.
Free trial for 30 days Amazon Prime (after 36 € / year)
Unlimited access to your favorite music with Music Unlimited. More of 50 million songs in streaming, on demand and without advertising. Try it for free for 30 days (afterwards, € 9.99 / month) and cancel whenever you want.
Try Music Unlimited free for 90 days (after € 9.99 / month)