To take advantage of the weekend by getting some of those items that we had planned to buy and that we have been putting off while waiting for an offer, today we have a few price drops in Amazon that might fit. If what you were looking for was a mirrorless camera, or a laptop, a robot vacuum cleaner or a smartphone, we have found some that may interest you. You have them if you keep reading.
Starting with the laptop, now we have for 1,131.36 euros and with a saving of about 121 euros, an ultrabook like the Huawei Matebook X Pro, which previously cost 1,252.36 and that offers us a weight of only 1.33 Kg with a 14-inch 3K screen (3000x2000p) and a powerful configuration, based on an Intel Core i7-8565U processor, accompanied by an NVIDIA GeForce MX250 graphics. with 2 GB of dedicated memory, plus 8 GB of RAM and a 512 GB SSD hard drive. It also comes with Windows 10 installed.
Huawei Matebook X Pro – 13.9 "3K Ultrathin Touch Laptop (Intel Core i7-8565U, 8GB RAM, 512GB SSD, Nvidia GeForce MX250, Windows 10 Home) Space Gray – Spanish QWERTY Keyboard
For those who are thinking of making the leap to mirrorless NikonNow, Amazon lets us cheaper the Z6 (first generation) with a 24-70 f / 4 SD2 lens in Nikonistas Version, for 1,697.65 euros with a beastly discount on the previous 2,799 of 1,101.35 euros. We are talking about a full frame mirrorless, with a 24 MP CMOS sensor, 4K video recording, a 3.2-inch touch screen and folding screen, or WiFi and Bluetooth connectivity among other features.
Nikon Z6 – 24 MP Mirrorless Camera (ISO 100-51200, Type Z Mount, 12 fps, Optical VR Stabilization, Sport Mode) – Kit with 24-70MM F4 SD2 Lens – Nikonistas Version
We still have on offer a mid-range smartphone like the OPPO A73. This recent model offers us a 6.5-inch screen, with a Mediatek Dimension 720 processor, 8 GB of RAM and 128 GB of storage, triple rear camera, Dual SIM or 4.40 mAh battery among other features. We have it now for 269 euros with a 30-euro discount on the previous 299. (We have it at the same price in black and neon colors.
OPPO A73 – Smartphone 6.5 ", 5G, AMOLED, 8GB + 128GB, Triple Camera with AI, 18W fast charge, 4040mAh, Dual Sim Android 10, Black
The basic one is also reduced Oppo A53. This model offers us a 6.53-inch screen at 90 Hz, and mounts an 8-core Dimensity 720 processor, plus 4 GB of RAM, with 64 GB storage. It has a triple main camera and a 5,000 mAh battery with 18W fast charge. Now we can take it for 169 euros, with a reduction of 20 euros on the usual 189.
Oppo A53 – Smartphone 6.5 ", 4GB + 64 GB, Neo-Display 90Hz, Triple Camera with AI, Fast Charge 18W, 5000mAh, Dual Sim, Mint Cream
If we prefer to buy a smartphone from Xiaomi, we can choose the Redmi Note 9, a basic terminal, with an AMOLED screen of 6.53 inches Full HD +, which mounts a Helio G85 processor from MediaTek, accompanied by 3 GB of RAM and 64 GB of storage and with a 48 Mp main camera and a 16 Mp front camera. of a 5,020 mAh battery. We have it for 174 euros instead of the usual 183.22, (almost 10 euros less), being able to buy it at practically the same price in 3 different colors.
Xiaomi Redmi Note 9 – Smartphone with 6.53 "DotDisplay FHD + Screen (3 GB + 64 GB
Another option of Xiaomi that we can buy at a good price is the Wed 8, which leave us at 248.99 euros instead of the previous 500 euros. Saving about 251 euros, we will take a terminal with a 6.21-inch Full HD + AMOLED screen, which mounts a Snapdragon 845 processor, accompanied by 6 GB of RAM and with 64 GB of storage. It has a dual 8 + 8 Mp camera and a 20 Mp front camera.
Xiaomi Mi 8 – 6.21 "Dual SIM Smartphone (Octa-Core Kryo 2.8 GHz, 6 GB RAM, 64 GB Memory, 20 MP camera, Android 8.0) Color White [Versión Oficial] [Clase de eficiencia energética A]
But the most interesting of the terminals of the Chinese brand that we can find at the moment lowered in Amazon is the Xiaomi Mi 10 Lite 5G, which already offers us the speed of 5G. We have it for 279 euros and it has a reduction of almost 50 euros over the usual 327.90, and it offers us a 6.57-inch AMOLED screen, Snapdragon 765G processor, 6 GB of RAM and 128 GB of storage in addition to a quadruple main camera or a 4,160 mAh battery.
Xiaomi Mi 10 Lite 5G (6.57 "AMOLED Screen, TrueColor, 6GB + 128GB, 48MP Camera, Snapdragon 765G, 4160mah with 20W Charge, Android 10) Gray
For those who want to save some money on a robot vacuum cleaner, today we have the Roomba 671, even cheaper than last time, for only 199 euros, reduced from the previous 349 with a saving, therefore, of 150 euros; With it, you will take home a cleaning robot with WiFi connection, programmable and controllable from your smartphone.
iRobot Roomba 671 Robot vacuum cleaner hard floors and carpets, Dirt Detect technology, cleaning in 3 phases, Wifi, programmable by app, compatible with Alexa, Black
For manual shaving, we still have one more day (the offer ends tomorrow), reduced the Gillette Labs Heated Razor, a razor that applies relaxing heat while shaving, with a battery and charging base, which today is priced at 25 euros cheaper, going from 165 to 139.99 euros.
Gillette Labs Heated Razor Hot Shaver + 1 Replacement Blade + Charging Base + Smart Plug, Basic Kit, Original Gifts for Men
To finish with tools, we have today lowered the hammer drill Bosch UniversalImpact 700, with cable, and gear selector, depth stop and additional handle and carrying case, which has a usual price of 79.90 euros, but now drops by 20 to 59.90 euros.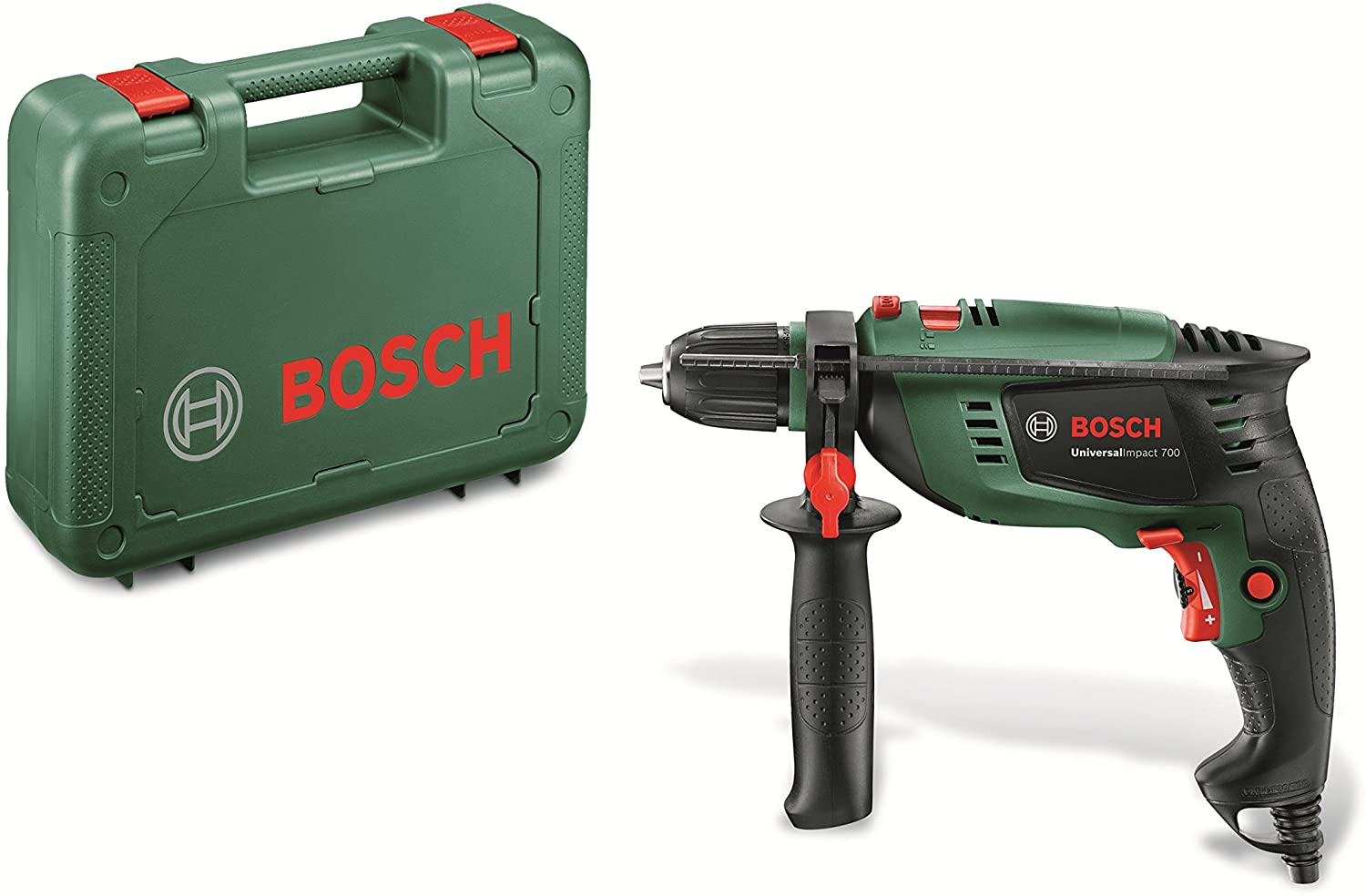 Bosch Universal Impact 700 – Hammer Drill (700 W, Additional handle, Depth stop, Carrying case)
Finally, we can also buy a paint sprayer like the Bosch PFS 5000 E, with 1200 W of power, two paint tanks of 1 liter each, different nozzles and a price today of 140.30 euros, with a reduction of 46.80 euros compared to the usual 187.10.
Bosch PFS 5000 E – Paint spraying system (1200 W, 2 tanks for 1000 ml paint, nozzle for wall painting, varnish, enamel, cleaning brush)
These are just some of the best offers of the day and price drops you can find today, but you can find more here. And you know; Shipping is free on orders over 29 euros. In addition, Amazon Prime customers receive their purchases the next day. If you are not already, you can try it for free for a month. Of course, without commitment of permanence and being able to unsubscribe at any time.
Prices and availability may vary after publication
Other featured offers
Do not miss the rest of the featured offers today:
Free shipping, streaming movies and series, over 2 million ad-free songs, hundreds of free eBooks, and unlimited photo storage with Amazon prime. Try it free for 1 month (then € 36 / year). If you are a student, 3 months free and pay half: only 18 euros per year.
Free trial for 30 days Amazon Prime (after 36 € / year)
Unlimited access to your favorite music with Music Unlimited. More of 50 million songs in streaming, on demand and without advertising. Try it for free for 1 month (afterwards, € 9.99 / month) and cancel whenever you want.
Try Music Unlimited free for 30 days (after € 9.99 / month)