For those who want to start the year solving their connectivity problems once and for all, today, in Amazon You can find a few items like routers, mesh systems, extenders and more on sale. As always, you have them in more detail and prices if you keep reading.
If we want to set up a WiFi Mesh network, we can start with the D-Link COVR-1102 A kit with two terminals, which offers us a 1200 Dual Band WiFi connection, ideal for streaming in 4K, with WPA3 encryption, all for only 71.99 euros, with a reduction of 14.19 euros on the previous 86.18.
D-Link COVR-1102 AC1200 Mesh WiFi Kit (Dual-Band, Two Smart Wi-Fi Extender Nodes up to 1200 Mbps, Mesh, WPA3 Encryption, Gigabit LAN, Wave2, 4K Streaming, Alexa / Google Compatible, White
For 79.99 euros, with a 49 discount from the usual 129, we have a router like the ** D-Link DIR-1950 **. This AC1900 model is also Dual Band and offers 5 Gigabit 1000 Mbps ports, WPA3 security, triple VLAN, parental control, and the possibility of controlling it through Google Home or Alexa.
D-Link DIR-1950 Router Gaming WiFi 5 AC1900, Alexa Voice Control, Google Home, 5 Gigabit Network Ports 1000 Mbps, WPA3 Security, Triple VLAN for Fiber, Parental Control, Wave 2, MU-MIMO, Black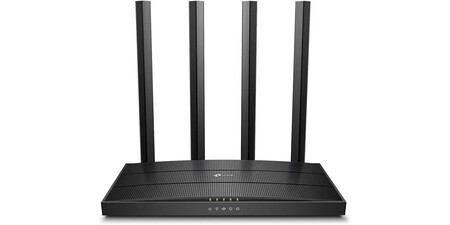 If we are looking for a more complete router than the one supplied by our teleoperator at a more than reasonable price, we can choose the TP-Link Archer C80 AC1900, a mid-range model that now remains at 69.60 euros. For about 9 euros than the previous 78.99, we will be getting a dual-band device, (2.4 and 5 GHz), with Beamforming technology, with management apps from the mobile, both for Android and iOS, Smart Connect or parental control among other benefits.
[New] TP-Link AC1900 – Dual Band Wireless Router (2.4 GHz / 5 GHz), MU-MIMO WiFi, 4xGigabit LAN Ports / 1xWAN Port, Beamforming Technology, Smart Connect, Parental Control (Archer C80)
He TP-LINK Archer C50 It is a basic router that costs us only 23.99 euros and offers us dual band with speeds of 1200 and 300 Mbps in 2.4 and 5 GHz respectively. It has 4 antennas to improve its wireless coverage and Fast Ethernet ports, as well as being very easy to manage thanks to TP-Link Tether. It has a reduction of 8 and a half euros, since it drops from the previous 31.99.
TP-Link Archer C50 – Dual Band Wi-Fi Router, 1200 Mbps, 2.4 GHz to 300 Mbps and 5 GHz to 867 Mbps, 4 External Dual Band Antennas, Fast Ethernet, 100 Mbps Port, White
29.45 euros is the discount we have today for the D-Link DWR-921, a wireless router to which we can give the usual use that is given to these devices or install a SIM card and use it with our 4G network anywhere. It offers us four Fast Ethernet ports and today it costs us 72.99 euros instead of the usual 102.44.
D-Link DWR-921 – 4G / LTE N300 wireless router (3G, 300 Mbps, WPS, 4 10/100 Mbps Fast Ethernet RJ-45 LAN ports, 1 10/100 Mbps WAN port, SIM data slot, WPA2, antennas removable), black
Another way to improve our wireless connectivity, with 15 euros discount, we have in the TP-Link AC1750 RE455, a modern dual-band WiFi network extender, with a WPS button and a Gigabit port that has 3 antennas and costs us 54.99 euros instead of the usual 69.99.
New TP-Link Wireless WiFi Repeater, AC1750 Dual Band Speed, Network Extender and Access Point, Compatible with Fiber and ADSL Modem, Smart Light Indicator, 1x Gigabit Port (RE455).
Also to help us have a more connected home, we have lowered the D-Link DSP-W118, a smart plug with WiFi connectivity, to control what we have connected to it from anywhere, thanks to the smartphone app to which it gives us access, being able to even program on and off times. It is also compatible with Alexa, HomeKit or Google Home in addition to IFTTT. Now it costs 16.99 euros, the discount for him being 9.62 euros from 26.61.
D-Link DSP-W118 – Mini Wi-Fi Smart Plug compatible with Alexa and Google Home, control devices anywhere using free mydlink app
Those who need more than one smart plug now have the pack TP-Link Tapo P100 with 4 units per [33,99 euros(https://www.amazon.es/TP-Link-Tapo-P100-4-Pack-Concentrador/dp/B083FF167K/), con un descuento de 11 euros desde los 44,99.
TP-Link Tapo P100 4-pack – WiFi Enchufe Inteligente Mini tamaño para Controlar su Dispositivo Desde Cualquier Lugar, sin Necesidad de Concentrador, Funciona con Amazon Alexa y Google Home
El TP-Link Archer T3U Plus AC1300 es un adaptador de red inalámbrico que nos sale por sólo 16,99 euros, con un descuento de 6,43 euros desde los 23,42 anteriores. Es justo lo que tu viejo ordenador necesita si no cuenta con conexión de red inalámbrica o si por algún motivo se le ha estropeado la que sí tenía. Con él no te tendrás que preocupar de instalar tarjetas de red nuevas, y podrás volver a disfrutar de tu WiFi con sólo colocarlo en un puerto USB.

[Nuevo] TP-Link Archer T3U Plus AC1300 – Dual Band 5GHz / 2.4GHz Wi-Fi Adapter, USB 3.0, Adjustable External Antenna, Powerful Signal, 256QAM Turbo, Windows / MacOS Compatible
He TP-LINK Archer T2U It is a wireless network adapter with which we will provide a WiFi connection to our computer, compatible with the 802.11 a / b / g / n standards, it works in the 5 and 2.4 GHz bands, being able to offer us 433 and 150 Mbps in each one of them respectively. Today it costs us 12.99 euros, with which we save about 3 euros with it since it drops from 15.98.
TP-Link Archer T2U USB WiFi Adapter, 600MBps AC Dual Band WiFi Receiver, Mini Size, USB 2.0, Advanced Security, Black
These are just some of the best offers of the day and price drops you can find today, but you can find more here. And you know; Shipping is free on orders over 29 euros. In addition, Amazon Prime customers receive their purchases the next day. If you are not already, you can try it for free for a month. Of course, without commitment of permanence and being able to unsubscribe at any time.


Prices and availability may vary after publication
Other featured offers
Do not miss the rest of the featured offers today:
Free streaming, streaming movies and series, over 2 million ad-free songs, hundreds of free eBooks, and unlimited photo storage with Amazon prime. Try it free for 1 month (then € 36 / year). If you are a student, 3 months free and pay half: only 18 euros per year.
Free trial for 30 days Amazon Prime (after 36 € / year)
Unlimited access to your favorite music with Music Unlimited. More of 50 million songs in streaming, on demand and without advertising. Try it for free for 1 month (afterwards, € 9.99 / month) and cancel whenever you want.
Try Music Unlimited free for 30 days (after € 9.99 / month)
Topics
Computing
Angadgets – Technology